Today I decided to update my HF antenna.
There was a web site (I'll add the link later when I find it again) that told of an offset HF antenna that just about is the exact size for my block.
Tuned to 3.630Mhz, with the feed point at 1/5 the way from one end.
So, I set about trying it out.
First, a BALUN. This is similar to those I made for the RA event, but with only 6 cores in stead if 8( Jaycar only had 6 in stock ).
So it just fit into a smaller case.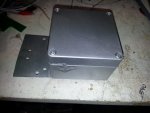 You can see the filled in holes in the side I was going to use but the cores were in the way.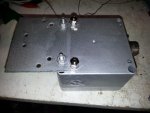 I ended up having the connections out the back. A piece of fiberglass board is screwed on the case for antenna wire and pulley cord attachment.
UV stabilized cord is to be used as the COAX strain relief and antenna hoist rope. This cord has fuzzy ends when cut so some dual wall heat shrink is put on like a boot lace end.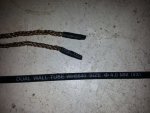 The COAX would be a bit heavy so strain relief is as below..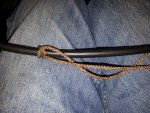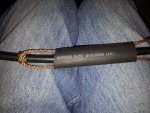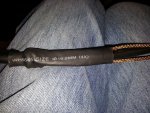 Dual Wall heat shrink is applied to hold the cord in place. This has hot melt glue inside so when it is heat shrunk, it is also securely glued.
Now, the COAX is screwed onto the BALUN and it too is sealed with dual wall heat shrink.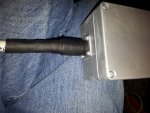 Next, the wire is hooked on.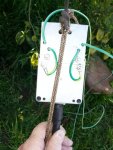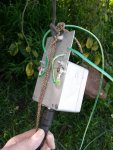 A pole is now mounted to the front gate post.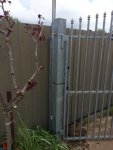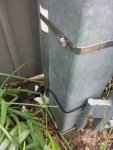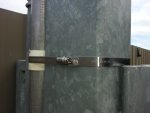 I've added short lengths of PVC pipe around the 50mm steel pole to space it slightly away from the gate post because there are cable ties there already.
There are pulleys on eye bolts so the antenna can be raised and lowered easily.

(done with a bit of brute force and ignorance)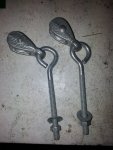 When I tried to raise the antenna, the cord jumped off the pulley so I had to take the pole down again and fix it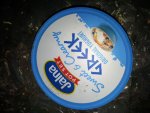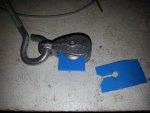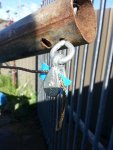 This addition stops the cord jumping off.
So, now I have a new HF antenna. I'm not convinced it is better and the SWR is suspect. With the pulleys, it will be easier to work on.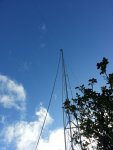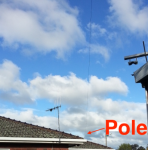 This next Wednesday will be a good chance to see if it worked or not.
Last edited by a moderator: