This will be the next version of my basic Arduino VFO to replace crystals in old sets.
The board size is a little over 2" a side.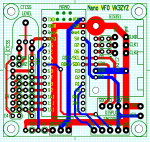 It is a pretty minimum system, but does include CTCSS. The encoder and display are not mounted on the board and all interconnects are with wires soldered on. No connectors, unless you want to use the Si5351 board COAXs for the VFO outputs.
View attachment 1383
I intend to get a batch of these made.
Any comments appreciated.
Last edited by a moderator: