Has anyone got one of these Auto antenna tuners?
https://www.ebay.com.au/itm/254949869219
(kit under $40)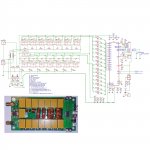 There are some good Youtube videos of them and I like this one showing the tuning of a 43feet long wire via a 9:1 BALUN
I'm hoping to get a kit and make one then install it just under the BALUN of my antenna to see how it goes.
Here is the source code. So far, I have not figured out how to use it, but there are those who can.