Recently I was trying to repair a Macbook that has no back light, but could not unscrew the case. The tiny screws are 5 sided and I've no suitable driver.
I found this at Jaycar, and can fully recommend it for the great way it is put together and the range of bits.
48 Piece Screwdriver Set with Carry Case
CAT.NO:TD2134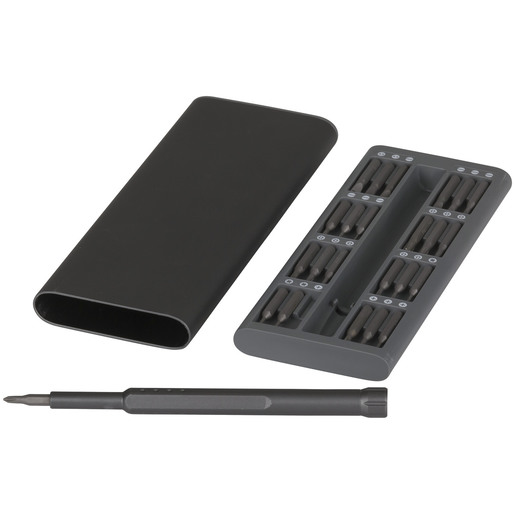 Bits Included:
Phillips: PH000, PH00, PH0, PH1
Slotted: 1.0, 1.5, 2.0, 2.5, 3.0, 3.5, 4.0
U type: U2.6, U3.0
Torx: T2, T3, T4, TR5, TR6, TR7, TR8, TR9, TR10, TR15, TR20
Hex: 0.7, 0.9, 1.3, 1.5, 2.0, 2.5, 3.0, 3.5, 4.0
Triangle: 2.0, 2.3, 3.0
Pentalobe: 0.8, 1.2, 1.5
Tri-Wing: Y0.6, Y2.0, Y2.5, Y1
SQ: S0, S1, S2
Point: 0.8
Pinhead Phillips: 2.5
Aluminum Alloy Handle
Both sides of the inner tray have bits, and the tray is securely held in the Aluminium sleeve.
A push releases it to slide out.
Now, I may not keep loosing my drivers!