The latest club Newsletter is now available on-line.
You can download from here :- January 2019 Newsletter
Next club meeting will be held at Vision Australia, on Saturday 2nd February at 1:00pm.

MURRAY QUAD 2018-11-24/25 Murray Quad Pictures
SADARC were invited again to assist Tim Roadley with the Murray Quad, this time it was organised under a different format and to be run over two days, the 24 th . And the 25 th . Of November.
On the Saturday the canoe section was held from Thompsons Beach Cobram along the Murray to the Tocumwal Town Beach. The foot race section was on the Sunday starting at the Yarrawonga Rowing Club and running along the foreshore of lake Mulwala to the bridge and back to the Rowing Club at the start and finish lines.
There were 23 canoes on the Saturday and over 100 runners took part in the Sunday foot race.
Darren VK3HEN and Bruce VK3PNG arrived at Tocumwal about 4pm on the Friday and Andy VK3AJA arrived soon after where we set up our caravans at Tocumwal Town Beach. Saturday Graeme VK3PGK, Peter VK3FSPR and Mark VK3KMF arrived at the Town Beach Tocumwal to get their radio positions for this canoe event. After receiving directions to their various check points Andy, Graeme, Mark and Peter travelled to their appointed positions ready for the start at 3pm. Graeme was at the starting line at Cobram, Darren and Bruce at the finishing line at Tocumwal Town Beach and Andy, Mark and Peter were at various positions on the Murray between Cobram and Tocumwal. This event started at 3pm and finished at around 6.30pm. Reception to all radio points from the start to the finish was excellent and we were able to track were every canoe was via our radio network at any time from the start to the finish of the race. We used the 147.200 Yarrawonga repeater for this event.
After the last canoe arrived at the finish line we packed up and travelled to the Rowing Club at Yarrawonga to get ready for the Sunday foot race. Bruce and Darren, Andy, Graeme and Mark stayed at the Rowing Club on the Saturday night ready for the Sunday event.
Sunday an early start at 7.45am. Darren and Bruce set up base at the start and finish at the rowing club, Peter was at the turn around point at the Mulwala Bridge, Mark, Graeme and Andy at various drink stations along the way. It was a complicated route and a few of the runners had trouble keeping to the route that was mapped, apart from the few who had problem finding their way it was a successful event. Part of the proceeds from this Sunday event Tim is going to donate to Heart for Kids.
Once again our radio communications part of this Sunday event was very good; we had excellent reception from all check points both days. For this Sunday event we used simplex 146.500.
An enjoyable and successful weekend by all the SADARC members who took part.
Bruce VK3PNG and Darren VK3HEN.
Repeater Update:
As of 30th November both the 5 meg split UHF repeater 439.775 MHz and the 7 meg spilt repeater 438.650 MHz were returned to service with improved performance. We now have our full complement of repeaters on air – VHF and UHF
Vale – John Waters VK3PXJ 24/3/1939 – 16/10/2018
It was with sadness that last month's newsletter reported the death of John VK3PXJ. His funeral however, was not until the 3rd of November at a graveside service at 1pm at the Tatura Cemetery. As a mark of respect for John our meeting scheduled for the same day and time was cancelled and many members attended the funeral and there were 20 there at my count and the club formed a short avenue of honour for John..
John was one of nine children and grew up in a number of towns in the general area. He had been in the army reserve over the years. His working life involved a number of jobs which involved him in either some form of leadership in various positions from working in concreting, dairy product processing and finally retired after many years at the Rosella factory having worked in the boiler house.
John married Carol and they had two children. Sadly Carol died a number of years ago. Later on John and Marelene became very good friends then unfortunately she died around six years ago. All of this of course saddened John.
John was very keen on Country Music and attended many gatherings of those keen on Country style music. He even went as far as Tamworth. His interest in radio was sparked by the CB craze in the 1970s, then as time went by John could see that he could enjoy radio even more by getting his amateur radio licence. So he sat for the exams and gained his ticket to more fun on the airways. John was always a keen and reliable member of the club and more recently despite his failing health he took a significant part in the organising part of the Hamfests.
Rest in peace John.
The two sides of the guard of honour for John's funeral and the carrying of the casket.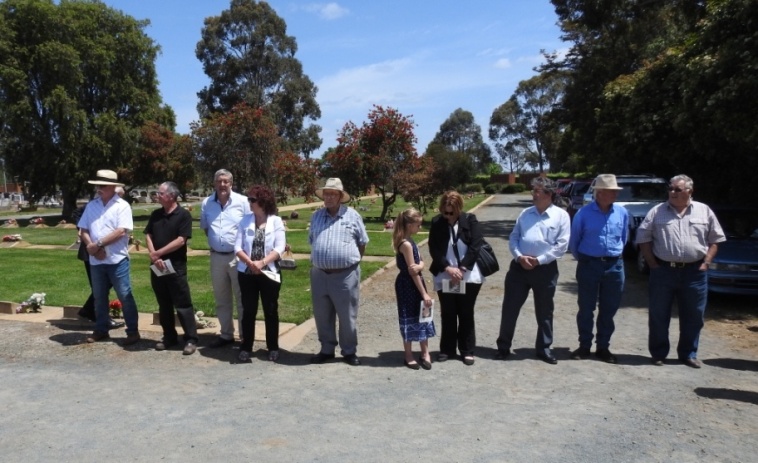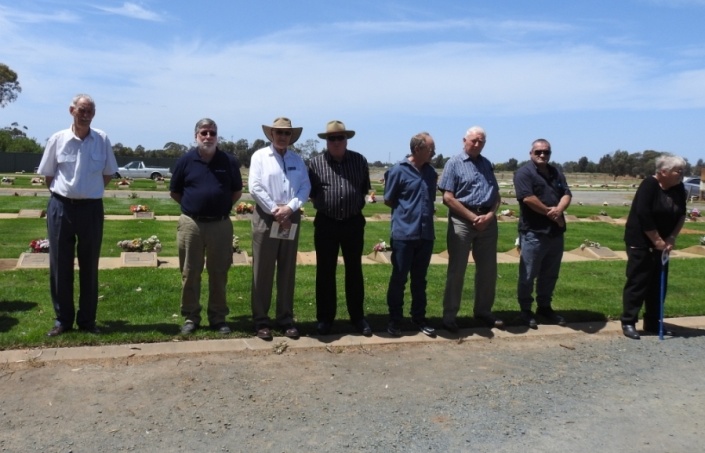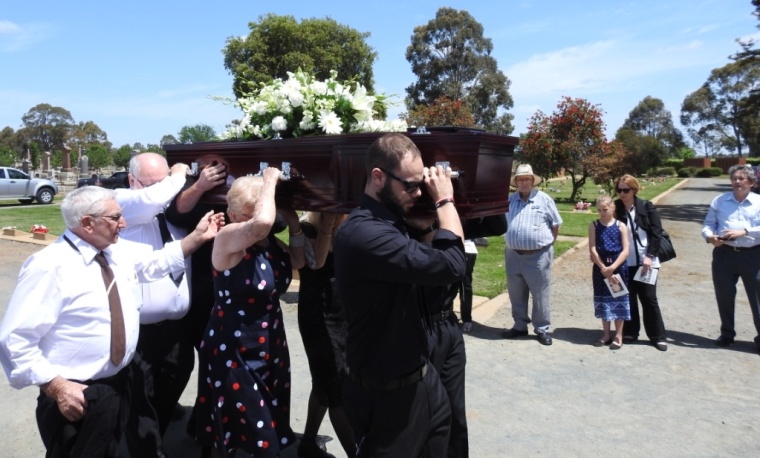 S.A.D.A.R.C is a group of keen "Ham Radio" operators who participate in most aspects of the great range of activities available in this hobby. In order for a radio amateur to obtain a radio call sign, and transmit and receive radio signals from around the world, it is necessary to pass an examination recognized by the Wireless Institute of Australia. Our club is able to conduct these examinations for those interested in entering the fascinating world of radio communication, using their own radio, or one of those at our Club Station Base Station, VK3SOL
Visitors wishing to learn more about the hobby of amateur radio are most welcome to attend.