Here is the latest acquisition. It is a Codan 9105. Also known as an X-2. This will be for Ian, VK3YYY
This radio has 10 channels and is programmable by a PC DOS program, connected via the mic socket.
So far, I have not been able to get the programming working as it comes up with an error.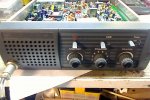 The front does not have any display at all, just knobs.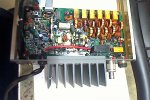 The PA board showing the band switching relays. Interestingly, this radio also has a second antenna connector and it can select either antenna. That is part of the programming.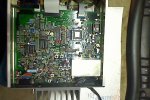 The receiver, synthesizer and control board. The processor is a 6800 series one time programmable. My aim is to run the original system from anESP32 in stead of the 68xx. And use the dial VFO featured elsewhere in this forum. Failing that, an S15351 may be pressed into service.
It will end up a free tune radio on the 160 to 20 Meters bands.
Watch this space for updates. And post any ideas you may have.