Here is a project for those who have good metal working skils.
PY2BBS, radioamador, radioamadorismo, satelites, vhf, uhf, projetos, DIY, eletrônica, faça você mesmo
www.py2bbs.qsl.br
A home made Bird lookalike power meter!
He did have the magic bits to start with.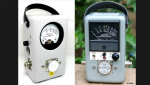 At the bottom of the page is a translate selection so you can see it in English.
The hackady post is here...
If there's one instrument that hams and other radio enthusiasts covet, it's the venerable Bird 43 Thruline wattmeter. The useful RF tool has barely changed in the nearly 70 years since … hackaday.com
Is anyone up to building the RF parts?
That would be way beyond my ability!
Last edited: