There has been some discussion around Mag Loop Antennas recently.
This is a Youtube video that just poped up and I think it is a neat design...
It is not using a variable vac cap, just a "standard" mechanical one that the guy makes. Have a look at these photos.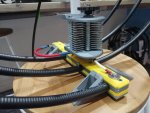 And for those who are on Facebook (not me), there is a group..
2e0ero Magnetic Loop Antennas. 1,224 likes · 9 talking about this. Electronics
www.facebook.com
And a lot of the parts are 3D printed
I may have a play later.
Last edited: